Beaches
Echo Valley Provincial Park see fee schedule click here
Echo Beach (West side of Echo Lake):  Located 8.66 km from the historic Fort Qu'Appelle. Echo Beach features a sandy beach with sunny and shaded lawn area for picnicking. Tables and BBQ are provided. The swimming area is buoyed for your safety. Park program staff provide programs on the beach during weekdays and weekends late June, all of July and early August. Check bulletin boards, or ask park entry gate staff for a brochure. Check out the Sask. Parks site click here
Fort Qu'Appelle Valley Centre beach is located in the beautiful town of Fort Qu'Appelle 79.5 km from Regina.  This is a very picturesque area that will have a new addition this summer, the "Splash Park".  The Fort Qu'Appelle Lions Club has been working very hard over the last year to fundraise towards this goal.  With the help of many donations this will be a reality for guests and residents to enjoy.  The beach has a large grassy treed area with picnic tables and BBQ's for guests.  The sand area of the beach is very rocky and it is suggested youdefinitely wear water shoes.  When entering the water be aware that it is very shallow so the "play" area for children and adults is large.
B-Say-Tah Point Beach is a charming area located 5.59 km from Fort Qu'Appelle.  There is a play structure, grassy treed area and great sand.  There is very limited parking and this beach is locked each night.  This area has swimming lessons throughout the summer. For more information click here
Katepwa Point Provincial Park Beach has no fee for a Provincial Park.  There is a vast beach area located 16.6 km from Fort Qu'Appelle.  Surrounded by great sand, grassy area and many trees to give plenty of shade.  Swimming lessons are given by private contracted instructors from July 1 to mid-August.  Registration is every Sunday afternoon at the beach or beach house. For more information click here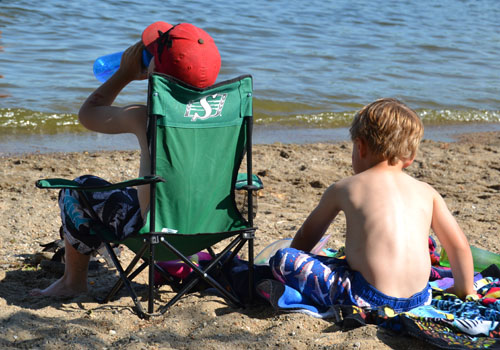 Boating
There are several boat launches throughout the area.  Waterskiing, wakeboarding, swimming and fishing are just some of the many things to do in the area.
Pasqua Lake
Pasqua Lake has 2 sites to launch boats but boaters have very minimal parking.  These two launches have been designed more for residents that need to launch their water crafts.
Echo Valley Provincial Park
Location- 8.66 km from Fort Qu'Appelle 72 km from ReginaThis park has 2 boat launches with an abundance of parking but there is a fee to enter the Provincial Park.  To view the entrance fees click here
The west side of the park features the beauty of Pasqua Lake.   The north side Pasqua Lake is lined with beautiful residential homes and cottages. On the south side you are surrounded by the natural aspect of the valley.  The depth of Pasqua Lake at its deepest is 60 feet.  Boaters are wise to have fish finders to know where some of the sand bars are.
The east side of the park is known as the Echo Lake side.  On this side to the north is Standing Buffalo Reserve, Jasmine on Echo, and the Resort Village of Fort San.  To the south you have the RM of North Qu'Appelle and the Resort Village of B-Say-Tah.  Boaters are urged to use caution when moving between Pasqua and Echo lakes.  Sandbars and shallow water may casue boats to become hung up.
Echo Lake
B-Say-Tah Point
Location: 5.59 km from Fort Qu'Appelle 76.2 km from Regina
This Boat launch located on the north side of Echo Lake has minimal parking but easy access to Echo Lake. A relaxing boat ride past neighbouring homes and cottages help you realize what you could have living along the lakes.  This boat launch is a neighbour to a public beach so please be cautious of the swimmers in the area.
Fort Qu'Appelle Valley Centre Campground
Location: North side of Fort Qu'Appelle across from Echo Ridge Golf Course
Boating becomes easy when you launch from this boat launch.  Located on the far east end of Echo Lake and north of the town of Fort Qu'Appelle, this new dock (2013) features increased parking resulting from some landscaping due to the 2011 flood.  Boaters need to be watchful of swimmers and very shallow water in this area.
Mission Lake
Lebret
Location:  7.1 km from Fort Qu'Appelle
Lebret boat launch is the first one on Mission Lake.   People will enjoy the drive as well as the boating.  Surrounded by lush magnificence in-between homes and cottages.
Katepwa Lake
Sandy Beach
Location: 12.5 km from Fort Qu'Appelle
A hidden gem of an area located 12.5 km from Fort Qu'Appelle, and nestled within a residential landscape.  Plenty of parking is available with a great drop off for launching your water crafts.  This launch is located in a residential area mainly used for area residents.
Katepwa Point Provincial Park
Location: 16.6 km from Fort Qu'Appelle 25 km from Indian Head
This boat launch area is adjacent to a beach, bar and many businesses. Plenty of parking is available for your vehicles and trailers.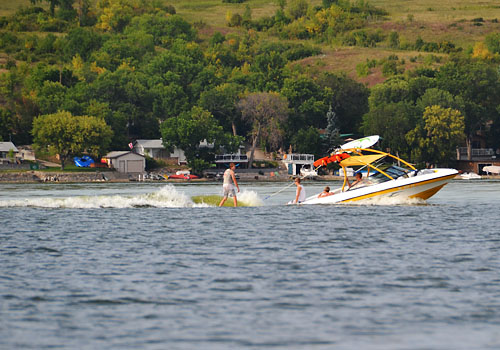 Eco - Friendly Rentals
Welcome to the west side of the district!  The are located at the boat launch in the Fort Campground on Echo Lake.  Eco-Friendly Rentals are happy to announce their second location. They have paddle boats, single and double kayaks, canoes and stand up paddle boards!
Check out their web site at http://legendsaremadeatkatepwa.ca/ for more information.
Treaty Four Governance Centre
This wonderful site opened in September of 2000 and became a centre piece for the Town of Fort Qu'Appelle.  This architectural beauty is the administrative centre of the Treaty Four First Nations.
If you would like more information click here
Fish Culture Station
Location: West on Highway #210, 5 km from Fort Qu'Appelle.
The Fort Qu'Appelle Fish Culture Station has the capacity to rear as many as 60 million fish each year. This stock replaces fish populations in water bodies where winterkill has occurred or where natural reproduction is not successful. The station also stocks newly formed water bodies (reservoirs) and waters where natural reproduction cannot keep up with the fishing pressure.  Stock can be used to extend the range of species, such as lake trout and arctic grayling, making them more accessible to anglers. A number of new species which do not occur naturally in Saskatchewan waters have been introduced.
For more information, click here.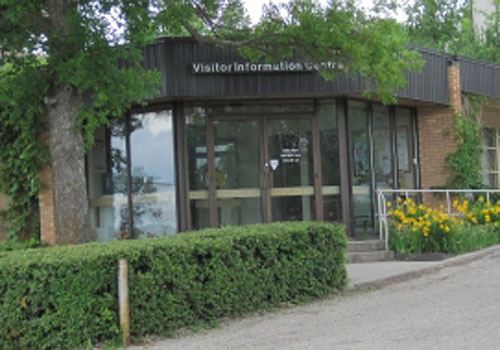 Fort Qu'Appelle Museum
Fort Qu'Appelle Museum is located beside the Qu'Appelle River on the site of the original trading post and fort, 198 Bay Avenue North. Open daily June 1st to August 31st from 1 to 5 p.m.  Phone: (306)332-5751 to arrange for a visit at other times. For more historical information on the Town and surrounding areas click here
Trans Canada Trail
Locations:
Fort San Walking Trail east end of Fort San to the Town of Fort Qu'Appelle  5.38 km
Trans Canada Trail Section A – a great walk around the town of Fort Qu'Appelle 6.91 km
Trans Canada Trail Section B – Town of Fort Qu'Appelle to Lebret 5.97 km
Lebret to Sandi Beach (paved highway) 6.4 km
Sandy Beach 1.44 km
Katepwa Trans Canada Trail 6.93 km
RM of Abernathy 26.9 km
When visitors come from all around taking a trail walk to see our beautiful valley
Hiking, Biking and Cross Country Ski Trails
Echo Valley Provincial Park located 8.66 km from Fort Qu'Appelle 71 km from Regina.  The Provincial Park provides activity in all seasons.
In the winter Echo Valley offers 10 km of groomed and set cross-country ski trails. Two shelters, with woodstoves and wood, are provided.
The spring, summer and fall seasons give hikers, trail runners and bikers plenty of area to let go and do what you love to do.  The nature trail, located on the Pasqua side of the park, is a 3-km loop and takes about an hour to walk. The trailhead is on the south side of the parking lot, in the area named Hole in the Wall. Trail brochures are available at the trailhead or at the main campground entry gate.   The trail has staircases and steep sections, good hiking footwear is recommended. While on the trail you will tour shaded coulees, walk along the ridge of the valley for a breathtaking view and cross grassy meadows. For more information please click here
For group hikes, please phone ahead and make arrangements with park program staff at (306) 332-3215.
Echo Valley Provincial Park has the opportunity of Activity Packs.  Pick up an activity pack from the gate personnel to accentuate your stay at this vacation destination.  The packs may be borrowed for a day absolutely free with your park admission.  Activity kits include:
Beach Kit
Sports Kit
Rainy Day Pack
Insect Investigation
Bocce Ball set
Echo does not have any paved or designated biking trails, but the cross-country ski trails may be used for biking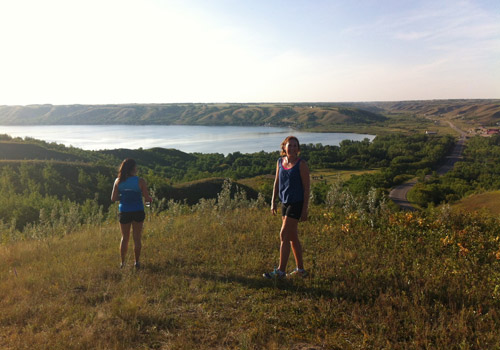 Qu Appelle Valley Centre for the ARTS
The campaign to transform Central School into a Centre to house year-round arts and cultural activities, including a gallery, arts instruction, smaller-scale performances, and to bring back to the Valley a Summer School of the Arts, is underway.
For more information about the centre click here
The Town of Fort Qu'Appelle is surrounded by art and culture.  Many artist have come to the valley to further their art.  Sharron Labatt, Ida Laurens, Joan Bolen, Lonnie Wisharts Valley Photography and Incandescent Films are just some of the artist you will find.
For more information about these great artists click here
Pottery is a growing art in the surrounding area.  Fort Qu'Appelle has two potteries.
Fort Qu'Appelle Pottery and Art Gallery located at 165 Bay Ave North - across from the museum.  You can contact the  owners at 306-332-4900.
Hours Of Operation are:
Tuesday to Friday 10am to 5pm
Saturday 9am to 3pm - or call for appointment
Pat Krug Pottery
Corner of 9th Street and Craigleith South.
Phone 306-332-4449
Flexible Hours