Echo Beach (West side of Echo Lake): Located 8.66 km from the historic Fort Qu'Appelle. Echo Beach features a sandy beach with sunny and shaded lawn area for picnicking. Tables and BBQ are provided. The swimming area is buoyed for your safety. Park program staff provide programs on the beach during weekdays and weekends late June, all of July and early August. Check bulletin boards, or ask park entry gate staff for a brochure.
Check out the Sask. Parks site click here
Fort Qu'Appelle Valley Centre beach is located in the beautiful town of Fort Qu'Appelle 79.5 km from Regina. This is a very picturesque area that will have a new addition this summer, the "Splash Park". The Fort Qu'Appelle Lions Club has been working very hard over the last year to fundraise towards this goal. With the help of many donations this will be a reality for guests and residents to enjoy. The beach has a large grassy treed area with picnic tables and BBQ's for guests. The sand area of the beach is very rocky and it is suggested you definitely wear water shoes. When entering the water be aware that it is very shallow so the "play" area for children and adults is large.
B-Say-Tah Point Beach is a charming area located 5.59 km from Fort Qu'Appelle. There is a play structure, grassy treed area and great sand. There is very limited parking and this beach is locked each night. This area has swimming lessons throughout the summer.
For more information click here
Katepwa Point Provincial Park Beach has no fee for a Provincial Park. There is a vast beach area located 16.6 km from Fort Qu'Appelle. Surrounded by great sand, grassy area and many trees to give plenty of shade. Swimming lessons are given by private contracted instructors from July 1 to mid-August. Registration is every Sunday afternoon at the beach or beach house.
For more information click here
Echo Valley Provincial Park
See fee schedule click here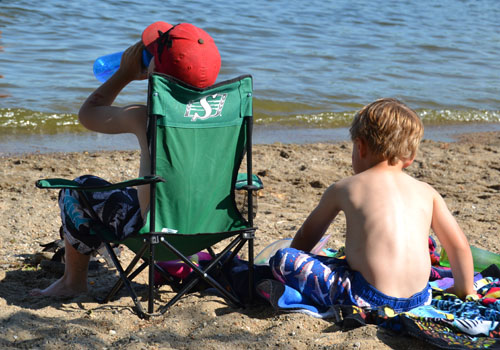 More Images Below