There are several boat launches throughout the area. Waterskiing, wakeboarding, swimming and fishing are just some of the many things to do in the area.
Pasqua Lake
Pasqua Lake has 2 sites to launch boats but boaters have very minimal parking. These two launches have been designed more for residents that need to launch their water crafts.
Echo Valley Provincial Park
Location- 8.66 km from Fort Qu'Appelle 72 km from Regina
This park has 2 boat launches with an abundance of parking but there is a fee to enter the Provincial Park. To view the entrance fees click here
The west side of the park features the beauty of Pasqua Lake. The north side Pasqua Lake is lined with beautiful residential homes and cottages. On the south side you are surrounded by the natural aspect of the valley. The depth of Pasqua Lake at its deepest is 60 feet. Boaters are wise to have fish finders to know where some of the sand bars are.
The east side of the park is known as the Echo Lake side. On this side to the north is Standing Buffalo Reserve, Jasmine on Echo, and the Resort Village of Fort San. To the south you have the RM of North Qu'Appelle and the Resort Village of B-Say-Tah. Boaters are urged to use caution when moving between Pasqua and Echo lakes. Sandbars and shallow water may casue boats to become hung up.
Echo Lake
B-Say-Tah Point
Location: 5.59 km from Fort Qu'Appelle 76.2 km from Regina
This Boat launch located on the north side of Echo Lake has minimal parking but easy access to Echo Lake. A relaxing boat ride past neighbouring homes and cottages help you realize what you could have living along the lakes. This boat launch is a neighbour to a public beach so please be cautious of the swimmers in the area.
Fort Qu'Appelle Valley Centre Campground
Location: North side of Fort Qu'Appelle across from Echo Ridge Golf Course
Boating becomes easy when you launch from this boat launch. Located on the far east end of Echo Lake and north of the town of Fort Qu'Appelle, this new dock (2013) features increased parking resulting from some landscaping due to the 2011 flood. Boaters need to be watchful of swimmers and very shallow water in this area.
Mission Lake
Lebret
Location: 7.1 km from Fort Qu'Appelle
Lebret boat launch is the first one on Mission Lake. People will enjoy the drive as well as the boating. Surrounded by lush magnificence in-between homes and cottages.
Katepwa Lake
Sandy Beach
Location: 12.5 km from Fort Qu'Appelle
A hidden gem of an area located 12.5 km from Fort Qu'Appelle, and nestled within a residential landscape. Plenty of parking is available with a great drop off for launching your water crafts. This launch is located in a residential area mainly used for area residents.
Katepwa Point Provincial Park
Location: 16.6 km from Fort Qu'Appelle 25 km from Indian Head
This boat launch area is adjacent to a beach, bar and many businesses. Plenty of parking is available for your vehicles and trailers.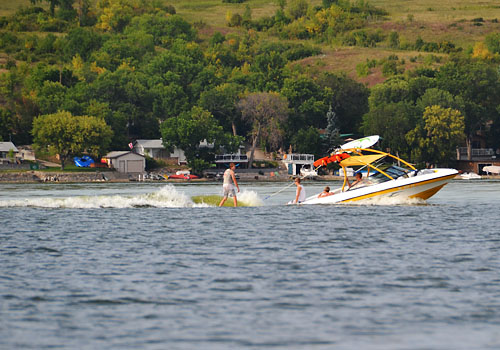 More Images Below