Echo Valley Provincial Park located 8.66 km from Fort Qu'Appelle 71 km from Regina. The Provincial Park provides activity in all seasons.
In the winter Echo Valley offers 10 km of groomed and set cross-country ski trails. Two shelters, with woodstoves and wood, are provided.
The spring, summer and fall seasons give hikers, trail runners and bikers plenty of area to let go and do what you love to do. The nature trail, located on the Pasqua side of the park, is a 3-km loop and takes about an hour to walk. The trailhead is on the south side of the parking lot, in the area named Hole in the Wall. Trail brochures are available at the trailhead or at the main campground entry gate. The trail has staircases and steep sections, good hiking footwear is recommended. While on the trail you will tour shaded coulees, walk along the ridge of the valley for a breathtaking view and cross grassy meadows.
For more information please click here
For group hikes, please phone ahead and make arrangements with park program staff at (306) 332-3215.
Echo Valley Provincial Park has the opportunity of Activity Packs. Pick up an activity pack from the gate personnel to accentuate your stay at this vacation destination. The packs may be borrowed for a day absolutely free with your park admission. Activity kits include:
Beach Kit
Sports Kit
Rainy Day Pack
Insect Investigation
Bocce Ball set
Echo does not have any paved or designated biking trails, but the cross-country ski trails may be used for biking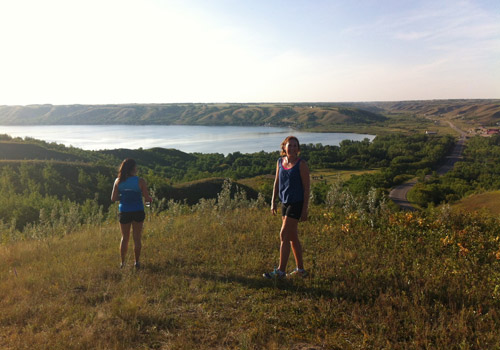 More images below